When I get asked if it is worth it to take a carrier with you on vacation I always answer with a big YES.
For me, a carrier makes life so much easier and when going on vacation I find it even more useful. My daughter is three years now and so far, I have always taken at least one carrier with me when we've gone on vacation. As a baby it was one of the best tools to keep her close in a new environment as well as settling her to sleep more easily. But even as a toddler and now a three-year-old I wouldn't have wanted to be without a carrier on vacation.
Last year we flew from New Zealand to Canada and I was so glad that I had a carrier in my hand luggage. We had to make our way through Vancouver airport with a very tired little girl who luckily fell asleep right away as soon as she could make herself comfortable in our carrier.
1. At the airport
It all starts with navigating luggage plus a baby or toddler through the airport. A carrier keeps your child close to you in the business of an airport and leaves you with two free hands either for luggage or for older children.
Sometimes flights can be at inconvenient times and your little one needs to nap. A carrier is perfect for this as babies and toddlers tend to sleep more soundly in a noisy environment when they're snuggled up close to their caregiver.
2. Navigating airport security
Most people are worried if they can carrier their child through security at the airport. Luckily this is not an issue at all. If you are using any kind of carrier without a metal frame (backpack type carriers) then you can wear your baby while going through security.
So far, I've always carried my little one – even as a toddler – through security. This way she is close to me while lots of strange people are around and won't get lost at the other end of security where everyone is always trying to get their belongings as quickly as possible.
3. On board
Do you remember all the strollers that are parked at the entrance of an airplane, because families couldn't take them on the plane? Well, this won't happen if you use a carrier while boarding and leaving your airplane. Which means you won't be left to carry your baby/toddler and your hand luggage through the entire plane – not the easiest task. Even though it seems like it is only a short walk you often need to wait for other passengers.
Most airlines want you to take baby out of the carrier once you are seated so that the seatbelt can fit around baby. Take off and landing are the only times that you most likely won't be allowed to carry baby in the carrier.
But even during the flight a carrier can come in handy, when there is a need to settle baby. I've certainly been known to walk up and down the aisles with my daughter to get her to sleep and then transfer her into the bassinet.
4. Using transportation
Not everyone uses airplanes though to get to their holiday destination. Trains, buses and subways are other popular public transportations which can be used to either get to your destination or to travel between destinations.
Any kind of public transportation is usually narrow, includes lots of stairs and is generally hard to navigate with luggage and children. Therefore, I find it easiest to put my little one into a carrier. This way I don't need to look for an escalator and my hands are free to carry luggage or hold on to older children.
5. At your destination
While on vacation you may not need a carrier as much as when on the road, but depending on how adventurous you are, a carrier may still come in very handy.
A baby or even toddler can nap in a carrier while the rest of the family is out and about exploring without being restricted by a nap schedule. Babies and toddlers will also feel a lot more secure in a new environment with new people if they can be close to their caregiver.
I remember, my then nearly two-year old daughter falling asleep in the carrier while my husband and I were exploring Ubud, Bali. We used this opportunity to find a cute little café, transferred her onto a sofa and then enjoyed a nice cold coconut together.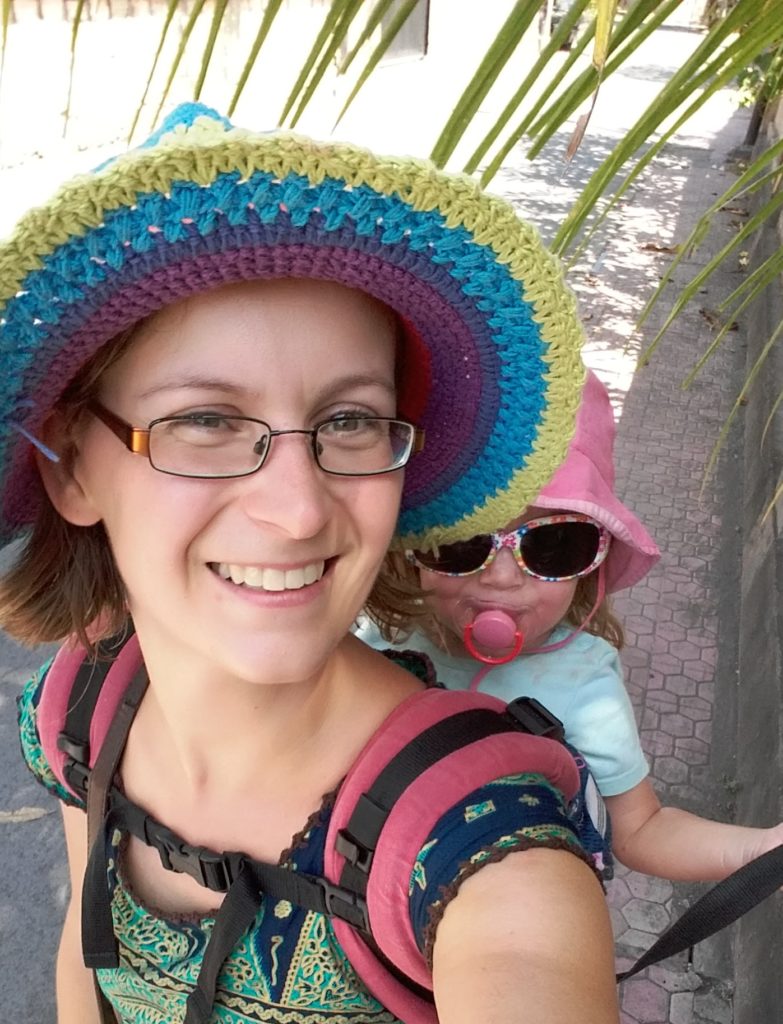 I'm curious!
Where have you travelled to and found a carrier invaluable? And what is your favourite carrier for travelling? Please share your experience in the comments.
---
Please share with your friends: